Ma rıhna nehna hon! We are here, we are not leaving!
The Evvel Temmuz Kültür Sanat Festivali will be celebrated in the southeastern Turkish Province of Hatay between 7-23 July 2023. This is a call for support from the festival committee and the volunteers in the participating districts Samandağ, Arsuz, Defne and Serinyol.
This year's festival motto is »Gülmek, bir halk gülebiliyorsa gülmektir«. It means »Laughing is (really) laughing if the people can laugh« and its program is full of exciting content. Talks, workshops, exhibitions, music, theatre and cinema events as well as special events for children, youth and women will take place for the people of Hatay. The celebration of Evvel Temmuz is rooted in the ancient tradition of the Arab Alevi culture. With the upcoming festival, the spirit is one of togetherness and resistance, of socialist values and of the abundance of languages and everyday practices in the region. It will be organised by the power of the people itself and is therefore not sponsored by local companies or institutions.
We, as Mor Dayanışma (Purple Solidarity) Women's Association, decided to support and strengthen the festival in all the ways we can. We will participate and organise the activities and workshops focussing on women within the scope of the festival.
Since the 6 February earthquakes, our network of Purple Solidarity has grown women's solidarity and feminist struggle in neighbourhoods and container cities, especially with disaster-affected women and children. Thousands of women and children are still here. They are here to protect life, their hometown and their culture! We didn't go either, we are here with them.
With this festival invitation we call for support from abroad. To all of our feminist, socialist friends in solidarity, if you are able to help us, please follow us on our Patreon website (or write to us for other transfer details). You can find information on Social Media and other platforms.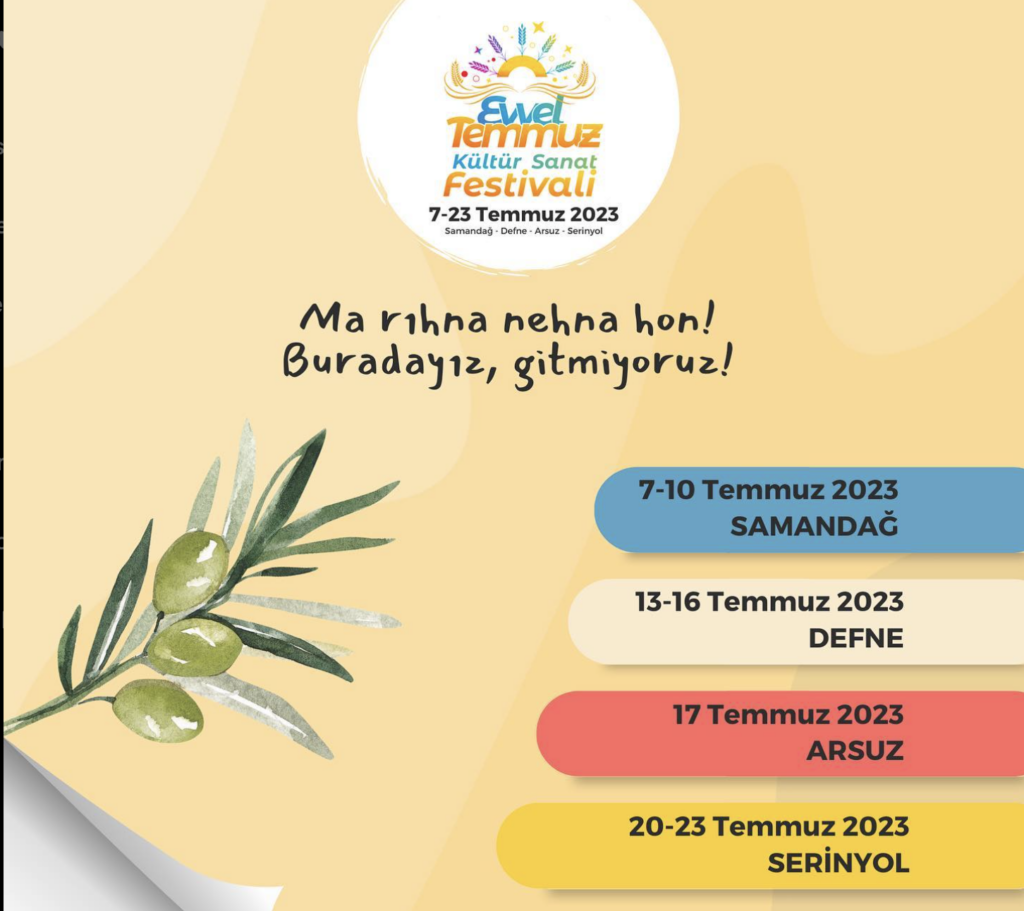 With the upcoming Evvel Temmuz Culture and Art Festival, we especially encourage everyone who had to migrate from Hatay due to the earthquake to return and help rebuild our homeland as a people. The invitation to the people of Hatay reads as follows:
---
We are ready for the Evvel Temmuz Culture and Art Festival and we invite you all to help us create the festival together!
»Laughing is laughing if the people can laugh.« We have a festival in Hatay between 7-23 July 2023, prepare the tents, containers, boil the hrisis (traditional meal), distil the boğma rakı, we have a festival in Hatay!
On 6 February 2023, our lives were shaken by the earthquakes. We lost our relatives and the places we lived in. But we never despaired and we held on to each other. We survived with the solidarity built between the people. We put our tents next to one another, we slept side by side, we shared our food and our pain, we healed our wounds together. Now, months after the earthquake, we continue to struggle to prevent those who see even tents as too much for us, those who want to take advantage of the dire situation and want to displace us from our homes.
Since the first day of the earthquake, we have been repeating one sentence, written on the walls. We strengthened ourselves with it in the tents and marched with it on the streets between the destroyed buildings:
Ma rıhna nehna hon! We are here, we are not leaving!
Let those who look for opportunities to erase the existence and culture of the Arab Alevi people hear: In order to revive our communal traditions, we will organise the Evvel Temmuz Culture and Art Festival again this year. Last year, we organised culture and art activities for 17 days in various districts, neighbourhoods and villages of Hatay. This year, our festival will once again go from village to village, from neighbourhood to neighbourhood.
Evvel Temmuz as an ancient tradition is a festivity where we harvest together what we produce in agriculture, we share the products and thus develop a culture of relations and collectivity. These relations disappeared with capitalism, but some of our communal culture has survived to this day. Evvel Temmuz is the symbol of this solidarity and resilience. Just as the attempt to ban our communal culture in the proceedings of the coup on 12th September 1980 was thwarted by the people then, we thwarted the efforts to prevent the festival last year. This year, we will meet again: in a halay (a regional dance), where the communal values of the people and our socialist values stand side by side.
Once again we realise what is meant by the saying: »Laughing is (only) laughing if the people can laugh.« Although the devastation we have experienced is great, we will come out of this disaster. We will embrace our culture, our muvvel and ataba, the halay of our spirit of togetherness, our collective tears and our laughter that will bring the oppressors to their knees. In the neighbourhoods and villages of Samandağ, Defne, Serinyol and Arsuz, we will remember those we have lost, we will encourage each other's hope with culture and art activities, we will heal together. And we will build ways to hold those who turned the disaster into a catastrophe to account.
The content of the festival is full again: Talks, forums, exhibitions, music, theatre and cinema events, special events for children, women and youth…Our festival is a festival of the people, and it will be organised with the people's power. In other words, we promise that you will not come across sponsorships of companies in this festival. Many languages and cultures, especially Arabic and Turkish, will take part in our festival, there is no room for one-sidedness or monism. The artists participating in our festival are considered our comrades and companions, they take part in the festival with their own strengths and power and thus become entangled with the festival and its other participants. The festival does not need to turn after the dominant popular culture, it rather encourages cultural activities that open the door to a new world. Competitiveness cannot touch the spirit of our festival, solidarity is essential. Therefore, our festival also cares about solidarity with other progressive festivals, not competition.
On this occasion, we invite our people who had to migrate to other cities due to the earthquake and whose hearts and minds remain here to Hatay: Let's meet in the districts of Hatay between 7-23 July, let the sun that will rise this year, the wheat that will grow this year, our July, be the blessing of our effort to rebuild life.
For more information about the festival, the programme of events or to volunteer, please visit the festival's official website or social media accounts.